Casa Mia – How Venice came to be my home
A Table In Venice
In this months guest blog, Skye McAlpine shares her passion for Venice and it's food along with some selected recipes from her first book "A Table In Venice". 
Collected together in this book are the dishes that mean the most to her and have provided her with the greatest joy over the years. Together they make up how she cooks. Simple, fresh, colourful – always plentiful – Venetian, if only by adoption.
Skye has also kindly shared with 12 Hay Hill Insiders a couple of the recipes from the book below. If you want to read more her book is available here.
Venice's best-kept secret
If you know Italy well, you will know that each region boasts its own distinctive cuisine, just as it speaks its own dialect and exhibits an indefatigable sense of regional pride. It is perhaps not so surprising when you think that Italy only became Italy, as such, in 1861. Before that, it was simply a collection of independent principalities and city-states, which shared little more than geography.
All of this is by way of explanation of the fact that when you talk to a Sicilian about Italian food they will regale you with tales of pizza and cannoli and when you talk to a Roman you will hear of deep-fried artichokes and cacio e pepe. An Italian's view of 'real Italian' food is still determined by where they are from, just as their views on how tomato sauce should be prepared is determined by how their own mother cooks it. The one constant across the country is the simplicity and passion with which Italians cook and eat.
Venice did not become part of Italy until 1866, having passed back and forth between Napoleon and the Austrians between 1797 and 1814, then returned to Austria when Napoleon was defeated. During the Middle Ages and the Renaissance, it dominated the Mediterranean as an independent republic, La Serenissima. Over the course of its rich history, the city has welcomed crusaders, merchants, pilgrims, artists, revellers, romantics, travellers and traders from East and West alike. Each has left a little of themselves behind, and together they have contributed to creating a city that is like no other. These varied influences are reflected in Venice's food, just as they are in its crumbling walls and famed frescoes.
Venetian food – and by that I mean the food eaten by Venetians – remains perhaps Italy's most closely guarded secret. Hundreds of thousands of visitors pass through the city each month. They leave having eaten in Venice but not having eaten well, visiting trattorie that cater to a transient trade. It is the food cooked in homes and made with local ingredients, the recipes passed down through generations, that Venetians reserve for their own gratification. That is Venetian food, and that is what I write about here. Romantic and exotic, it dabbles in spices and delightfully foreign flavours. It's pine nuts and raisins, bay leaves and sweet vinegar, heady saffron and creamy mascarpone. Zabaione, where you whip Marsala or Prosecco, eggs and sugar into a frenzy as light as air; buttery risotto made with garden peas so sweet and tender you would be forgiven for mistaking the dish for a pudding. It is the food of my childhood, laden with nostalgia and synonymous with comfort.
Writing this book has been a great joy for me for many reasons, not least because it has given me the excuse (if, in fact, an excuse were needed) to unearth as many old Venetian cookbooks as I could lay my hands on. Some were books I remember my mother cooking from as a child, which have since sat collecting dust on our bookshelves or in boxes in the attic for years. Others – all brimming with delightful recipes – were unassuming second- hand books written largely in dialect, with no pictures to recommend them, devoted to topics as niche as asparagus in the Veneto region, Jewish culinary culture in Venice and the traditional foods of patron saint days.
The process allowed me to revisit beautiful recipes that have long been out of fashion and to cook for the first time ancient dishes I remember hearing about as a child but had never tasted. The recipes I found myself cooking, again and again, are the ones that made their way into this book.
How I cook
I am not a chef, I have no formal training, and I have little to recommend me in the kitchen but my greed, curiosity and the fact that it is where I have always been happiest. Growing up, I would watch my mother for hours as she magicked flour, butter and eggs into cake, pasta and pastry. I learned how to roll gnocchi from my friend, Ornella, and, from her mother, Maria, how to mix a cup of cooking water into pasta dishes so the sauce tastes wonderfully creamy even without any cream. I learned how to make really good, buttery biscuits from my great-aunt, and how to knead pizza dough from our local pizzaiolo, Paolo.
Everything I know about cooking comes from a lifetime spent watching what others do, then replicating it in my own kitchen; from trial and error; from exploring the market and chatting to the vendors; and from too many afternoons spent leafing through cookbooks. I am driven by the belief that no matter how glamorous the restaurant or how fancy its food, eating out can never be quite such a treat as eating in, and so that is what I write about: simple, beautiful home cooking.
I make no lofty claim to compiling a definitive, or even comprehensive, catalogue of 'authentic' Venetian food, nor would I want to. All I have to offer is an honest account of how I live in the city and what it means to me. You will find some traditional dishes missing from this book: baccalà alla veneziana, for example, where you soak salt cod for days, then poach it in milk and whip it up with olive oil. I love to eat baccalà, but I do so when I go to a restaurant for dinner; I would never think to cook it at home.
In a quiet corner of Venice, far off the beaten track and away from the crowds that cluster around the famous Piazza San Marco, stands a little house. Its crumbling plaster walls are a soft, dirty pink. Its windows, hidden behind watermelon-green shutters, look out ove a sleepy canal. If you were to wander past, you most likely would not look at it twice, too beguiled by the beauty of the streets of Venice all around you. You might even be lost – few visitors come to this unpretentious part of town intentionally. But were you to pause for a moment, standing just outside the green door, in the campo where the cherry tree grows, what you would see is my home: the house where I grew up, where my husband and I celebrated our wedding, where my son took his first steps and where I learned to cook.
The story of how the little pink house on a Venetian backwater came to be my home is a serendipitous one. Unlike almost everyone else in my neighbourhood, I wasn't born in Venice, nor is my family from there: we moved to the city when I was tiny and before I can really remember living anywhere else. I have no recollection of my first night in the attic bedroom, nor of seeing the city for the first time from the water. I do remember my mother telling me that we were to move there for a year – and my asking if this meant that I wouldn't have to go to school. I was six. I did go to school, of course. And we stayed longer than a year; we've never really left.
When we first arrived, I spoke not a word of Italian beyond ciao and gelato. I went to the local school, a charming old convent with vaulted ceilings and the prettiest of courtyards. My teacher was a petite nun with a kindly, creased face who wore an immaculately starched wimple. We called her Madre Adolfa and, with all the patience in the world, she taught me Italian. She spoke no English: I remember her running water from a rusty tap into her hands, jabbing her wet finger at me and crying 'goccia, goccia' – the Italian word for 'drop of water'. For a long time, I thought that it meant 'finger'.
I soon learned to speak the language, though with a heavy Venetian accent and a fair few words of dialect mixed in. With time, the strangeness of living in a city with no cars, travelling everywhere by boat, and splashing through streets flooded with water when the tide came in high, became habitual – though it has never lost its charm. As is often the way when you come from one place and live in another, I feel no identifiable nationality: I am neither wholly English nor wholly Italian but I am much of both. Venice, really, has always been home, and over time I have come to think of myself as Venetian, if only by adoption.
As is the way for those who love to eat, my happiest childhood memories are centred on food. Little has changed for me on that front as I've grown older. I remain the kind of person who remembers life through what they ate and how it was cooked: veal escalopes rolled in crisp breadcrumbs and cooked alla milanese on our wedding night; panettone filled with pistachio cream for pudding the Christmas before last; bollito misto with a sharp salsa verde on the day my husband proposed; and cold tongue with heaps of Dijon mustard, followed by a molten hot chocolate soufflé, the night before our son, Aeneas, was born.
I live by the belief that food is so much more than a necessity. It is memories and feelings, a reflection of and a catalyst for our moods, and a profound way to connect with those around us. When I was a child, my parents loved few things more than to gather around the dining table for lunch and linger there until long past sunset. Meals were usually chaotic: shared dishes, hastily tossed together; flowers cut higgledy-piggledy from the garden and plonked on the table.
Sometimes lunch was for six, though just as often for twelve or even twenty – the more the merrier, with the hum of excited conversation playing out to a satisfying chorus of knives and forks scraping on plates and strains of Verdi opera blaring from the tinny stereo in the kitchen. To me, the chaos was magic. My memories are full of warmth, generosity and fun. Our life played out around the dining table, made richer by the food we ate and the cast of characters who joined us there.
Somewhere along the way I learned not only to cook but to love to cook.
Recipes
TAGLIOLINI WITH PRAWNS, COURGETTES AND SAFFRON – Tagliolini con Zafferano, Zucchine e Scampi.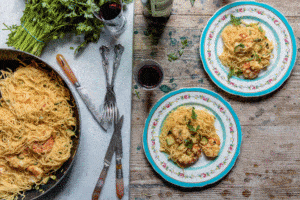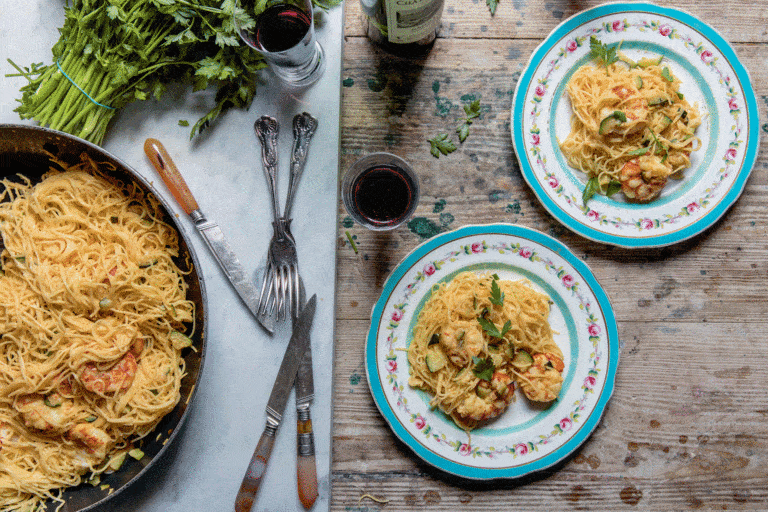 Tagliolini is essentially very finely cut tagliatelle – about as thick as a tapestry needle. It is a delicate pasta that complements the simple, fresh flavours of this sauce particularly well. Because it is so fine, take extra care with the cooking time; more often than not I find that it's done before I know it. Use fresh egg pasta, if you can, in which case you will need about 600g as it weighs heavier than dried.
For 4
½ teaspoon saffron strands
2 tablespoons olive oil
1 small onion, finely chopped
2 courgettes, roughly chopped
300g shelled and de-veined raw king prawns
50ml white wine
100ml single cream
400g tagliolini
sea salt
Using a pestle and mortar, grind the saffron strands to a fine powder with a small pinch of salt. Set to one side.
Heat the olive oil in a large frying pan over a medium heat, then add the onion and a generous pinch of salt. Cook, stirring, over a low-medium heat for 3–5 minutes, until the onion starts to become translucent. Add the courgettes and cook, stirring, for 3–5 minutes, until they begin to colour. Add the prawns and white wine and stir for 2–3 minutes, until the wine has largely evaporated and the prawns have started to turn pink. When all the wine has evaporated, stir in the ground saffron, followed by the cream. Remove from the heat and season with a little salt to taste.
Meanwhile, cook the tagliolini in a large saucepan of generously salted boiling water until al dente. Just before you drain the pasta, scoop out half a cup of the cooking water and set to one side. Drain the pasta in a colander, toss it back in the saucepan and add the sauce and the reserved cooking water. Toss well and serve immediately while still warm with a few parsley leaves scattered on top, if preferred.
APPLE, HONEY AND WALNUT CAKE  – Torta di Mele, Miele e Noci.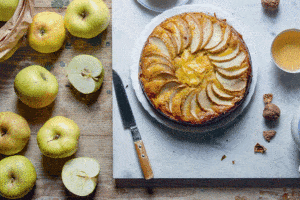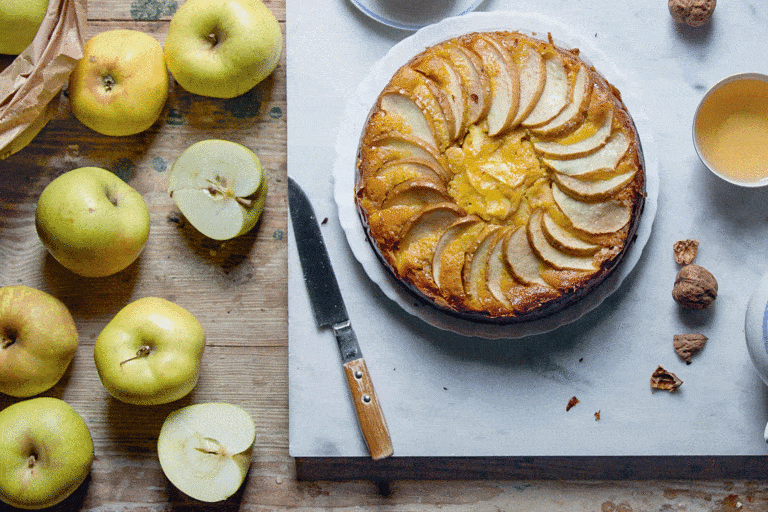 Every Italian mamma worth her salt has a recipe for apple cake, which she will serve up for breakfast and tea alike. Venetians are no exception to this rule. I am particularly fond of this version, made with yogurt and sweetened only with honey, fruit and a sprinkling of sugar to caramelise the top. It strikes that elusive balance between nourishing and sweet treat. It is also about as quick and simple to make as it gets: really just a matter of tossing ingredients in a bowl (I don't even bother peeling the apples) and mixing together, which makes it wonderfully do-able even first thing in the morning.
For 8–10
4–5 dessert apples (about 600g)
3 large eggs
120g honey
125g plain yogurt
50ml olive oil
210g self-raising flour
50g walnut pieces
25g salted butter, diced
35g demerara sugar
Heat the oven to 180°C/Gas Mark 4. Grease a 23cm springform cake tin using butter or oil and line the base and sides with baking parchment.
Core the apples and slice them lengthways into half-moon crescents. Roughly chop half the apple slices, saving the rest for decoration.
Put the eggs and honey in a bowl and whisk vigorously for 2–3 minutes with a handheld electric mixer (or a little longer by hand), until pale and fluffy. Stir in the yogurt with a wooden spoon. Drizzle in the olive oil and stir until well combined. Sift the flour into the bowl and mix until there are no lumps. Finally, toss in the chopped apple and the walnuts and give everything a good stir. Spoon the mixture into the prepared cake tin and use the back of the spoon to smooth it out evenly. Arrange the apple slices on top (I like to do this in a circle around the edge). Dab the pieces of butter over the cake and sprinkle with the sugar.
Bake for 45 minutes, until the cake is golden brown and springs back when you press down gently on the top; a knife or skewer inserted into the middle should come out clean. Cool in the tin for 10 minutes, then turn out on to a wire rack. Eat warm or at room temperature.
Extract taken from A Table in Venice: Recipes from my Home by Skye McAlpine (Bloomsbury, £26) which was published in March 2018.
Photography © Skye McAlpine