Whether you're looking for a private dining room for a private celebration with family and friends, an important business meeting, a working lunch, or the opportunity to impress your clients over dinner, 12 Hay Hill is the perfect destination.
We can offer our clients access to discreet private rooms away from the buzz of the dining room or bar, or if you prefer something semi-private, we can offer our mezzanine level space where you can enjoy the buzz of the restaurant while maintaining a level of privacy.
All of our rooms are distinct and unique in their styling, and can accommodate anywhere from 6 – 80 people.
Whatever you're looking for, you're sure to find a private dining room to suit among our selection.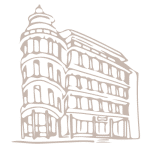 Ground Round Private Dining
If you're looking for a space to dine in opulence, our Ground Round dining room is the perfect place to make an impression. With a 4 tier chandelier, white marble table and floor to ceiling windows with a view of Mayfair, our ground floor private dining room is bound to leave your guests in awe.
Located just off the main restaurant the Ground Round has a vibrant atmosphere, whilst retaining exclusivity as a completely private space. However, if you don't want to be cut off from the buzz, you can leave the sliding doors open, and have the room as a semi private space.
Private Dining in The Libraries
Our Library meeting rooms can be hired separately, or combined to accommodate a large group for dinner.
Based just off the restaurant mezzanine, the libraries are one of our most popular private dining rooms. Whether you are looking for a long table, or a large square table, both setups are possible and can accommodate up to 18 people.
The mezzanine is also available to hire alongside the dining room, giving you the option of a semi private events space to host a drinks reception before or after your dinner.
Lower Ground Round dining room
The Lower Ground Round is arguably our finest and most sought after dining room. The space works beautifully for private dining, and benefits from its adjacency to the bar in an evening, meaning your guests can enjoy a cocktail before sitting down for dinner.
The positioning of this room also creates a great atmosphere for any occasion and will leave undoubtedly your guests impressed.
If you are looking for Private Dining options for larger groups – we can easily accommodate groups of up to 100 people in our Lounge.
For more information about booking a large group dining experience, please complete the events enquiry form at the bottom of this page, or click the button below.
WHAT OUR Private Dining Guests Say
I really enjoyed my visit here, lovely food and great service, highly recommend.
Samantha – Private Dining Guest
The restaurant at 12 Hay Hill provides our members and their guests with a delicious private dining experience. Under the watchful eye of Head Green Bartholomew, our expertly crafted seasonal menus combined with our locally sourced fresh ingredients come together to form the kind of gastronomic dining experience you can only find in Mayfair.
Click below to see an example of our private dining menu